Why OriginOil (OOIL) has Been Picking Up Steam this Week
Monday OriginOil announced that Industrial Systems Inc. is the First OriginOil licensee to sell an EWS based Industrial Water System.  This new development has gained an incredible amount of attention over the last week and the market seems to be rallying behind this latest company win.
Riggs Eckelberry joined the Big Biz show to discuss the sale of these four industrial systems, powered by OriginOil's Electro Water Separation™ (EWS) technology, to Synergy Resources Ltd. Elvis Seelochan and David Ramjohn, of Synergy Resources, also joined Mr. Eckelberry on the show, and talked about the milestone sale. The four industrial systems will be used for produced water and oily waste treatment in Trinidad and Tobago with the importance being on the fact that not only is T & T is the largest oil and gas producer in the Caribbean and has seen significant activity by major multinational oil and gas corporations. The country also has extensive environmental legislation, including the Water Pollution Rules, implemented in 2001 under the Environmental Management Act, which regulate the quality of effluent from oil and gas facilities and requires treatment of produced water before discharge to the environment.
Besides the progress on the company side, it looks like the market is seeing some incredible gains as well.  The chart looks like it has begun to build a much stronger level of support between $0.19-$0.20 suggesting that these "higher lows" could be an indication of a new bull market for OriginOil, in my opinion. Also of note is the much higher price channel that's begun to form between 0.19-0.22 as compared to last month's channel of $0.145-$0.17 (a difference of roughly 30% based on the new support).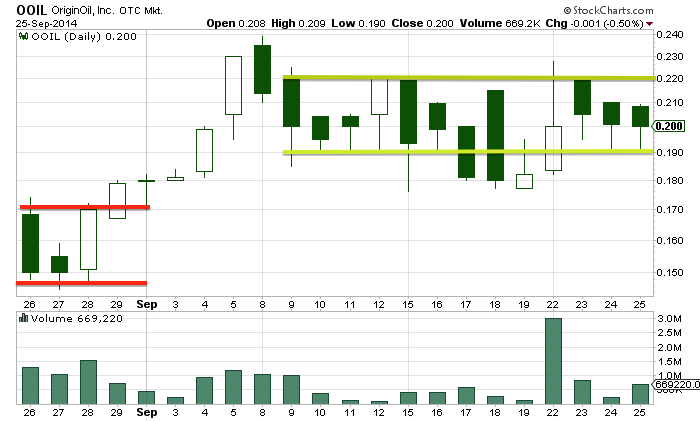 Over the course of the last few days OOIL has been up as high as $0.2275 and based on the amount of accumulation between 0.19-0.2007 this month, that means there was real potential to profit anywhere from 13-20% from Monday's high.  Now that the dust has settled a bit and market action continues to favor OOIL, I'll be paying close attention to this heading into this morning and through the early part of next week.  After seeing how much had traded this week, it looks like OOIL has firmed up at these levels and could be ready for another move.
For more information on OriginOil and other emerging oil & gas related companies, subscriber to our free newsletter and get your own, exclusive industry report: SIGN UP TODAY
Keywords:
originoil,originoil inc,ooil,origin oil,oil & gas technology,oil & gas cleanup,frac water cleanup,electro water separation,EWS,clean-frac,algae appliance,frac cleanup,hydraulic fracturing cleanup,produced water cleanup,invest oil & gas,oil and gas extraction,Frack and Produced Water Cleanup System,flowback,EWS Petro,CLEAN-FRAC,Industrial Systems Inc,Synergy Resources,Robert Isom,contaminated water,Bill Charneski,David Ramjohn,Lee Portillo,TriSep
---
Disclaimer
Don't ever invest based on what I say.  Do your own research and consult with a licensed profession before investing.  Any statements and opinions given are amateur and biased and should be treated as such.  Past performance does not indicate future performance in any way.  The performance of all alerts uncompensated and compensated in no way predict the performance of current and/or upcoming alerts.  Check the latest SEC filings before investing, and research other information on the risks of investing in microcap companies at www.sec.gov. Investor News Source has been compensated a total of sixty seven thousand five hundred dollars by the company  for market awareness on OriginOilInc. For important information concerning this email, including applicable disclaimers, compensation consideration, and additional information please make sure to read the information contained within.  To view our full disclaimer, click HERE.