BioNeutral On Bounce Watch
Yesterday afternoon BONU had strong power hour session, battling back from Wednesday lows and finishing even on the day at 0.0009 .  I've seen this pop for solid intra-day gains in the past, however some interesting buzz in the chat-rooms today suggests that the real story may be in the closing chart: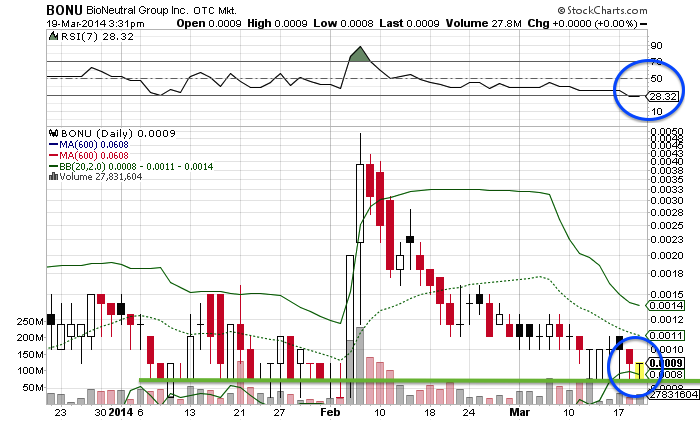 Normally I would break down a chart in its 6 week time-fram but I've got to show this to you on a larger scale.  It looks like BONU has settled back at a support level it saw late in January and in a similar manner, has hit an RSI between 25 and 35 (currently at 28.32).  In my opinion, this suggests that BONU is trending in "Oversold Territory" at an historic support.If you take a look back at this same level in Januaray, you'll also notice how BONU exploded following a string of days that closed between .0008-.0009.  The run-up to follow was massive and BioNeutral broke out more than 500PCT!  Based on how the chart is setting up, could this be the case once again after a proven breakout from similar levels back in January? In my opinion, the underlying momentum is strong for upward momentum potential heading into Thursday morningLooking for more Buzz on this company?
 If you haven't checked out BONU's latest CEO Q & A, go to the Seeking Alpha Contributor's page
HERE
to read it.  In the interview Mark Lowenthal stated that the company is currently in the process of negotiating a supply agreement and a private label transaction with two major market distributors for coverage both here at home and abroad. In addition, we are also in discussions with a major distributor for a key market segment, and we are close to an agreement to begin consumer testing our Ogiene products overseas.  In addition to this, BONU aims to have the Company generate sales in the $150M range over the next five years. So of course my eyes now are glued to the news wires to find out more on these "Two major Market distributors"!There's been a lot of buzz circling the article and I've noticed that many members of the investment community have taken a strong, positive stance behind the company's Ygiene and Ogiene products. I think this is such an exciting time for the company as a whole and I'm anxious to see what the future has in store.There's something to be said about repeat winners (as we've come to see with many of this year's breakout plays) and BONU has been a solid "go to" bounce feature time and time again.  Pull up info on BioNeutral Group Inc. this morning, check out the Q & A, and let's get ready for a great day on Thursday!
Don't ever invest based on what I say.  Do your own research and consult with a licensed profession before investing.  Any statements and opinions given are amateur and biased and should be treated as such.  Past performance does not indicate future performance in any way.  The performance of all alerts uncompensated and compensated in no way predict the performance of current and/or upcoming alerts.  Check the latest SEC filings before investing, and research other information on the risks of investing in microcap companies at www.sec.gov.  For important information concerning this email, including applicable disclaimers, compensation consideration, and additional information please make sure to read the information contained within. Investor News Source has been compensated five thousand dollars by the company for 1 day of coverage on BioNeutralGroup Inc. Investor News Source owns eleven million shares of BioNeutral stock restricted pursuant to rule 144 for at least a six month period beginning Dec 19,2013.  Once mature, the intent is to sell these in the open market at fair market value which could negatively effect price. To view our full disclaimer, click HERE.